Construction de transformateur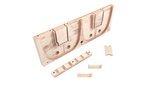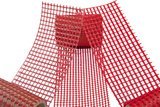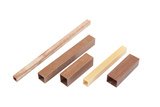 Delivery program for transformers
The Dr. Dietrich Müller GmbH supplies insulating parts and components for the following transformers:
Small transformers
Choke coils
Oil distribution transformers /
Oil-insulated high voltage transducers
Dry transformers
Cast resin transformers
Cast resin converter
Magnetic coils (e.g. for superconductivity or lifting magnets)
For transformer construction, our flat insulation materials are used as layer insulation, core insulation, barrier and cover insulation.
We manufacture spacers and bobbins as well as cylinders and supports from plate materials.
We supply cut-to-length, strangely drawn GRP profiles as cooling duct spacers, tie rods, supports and strips.
We also supply various prepregs.
Bobbins for transformers
Since 2010 we represent the company Cierre, which offers a large delivery program
Bobbins, Casting caps, and accessories for transformer construction.
Delivery program for power transformers
For power transformers we supply:
DDP pipes
Spacer bars
Spacers
Spacers
Thrust washers
Flexible insulating pipes
edge protection
L-profiles for frames
Knobbles
Shield rings
Umbrella cylinder
Support cylinder open or closed
U channels
Wrapped high voltage lines
Corrugated shavings
Angle rings, caps and support segments
Cylinder (from Mylar A, Nomex)
Delivery program for distribution and special transformers
For distribution and special transformers we deliver:
flexible Insulating parts/ Stamped parts
Inguinal strips (glued and ultrasonically welded)
Molded parts Nomex®
U channels
Corrugated shavings
cylinder
The following product groups are of interest: