Produits & amp; matériaux
Temps fort matériel du mois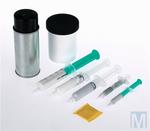 Our material highlight of the month is our product Thermigrease TG 20033, which has excellent thermal conductivity properties and a very high-temperature range.
This product was developed at the request of one of our customers in the chemical industry, who uses this product to better dissipate the heat generated in a process.
Our product highlight of the month is a membrane that we have produced with our new 3D deformation technology.
This product is used in medical technology.