Laminating and laminating technology
Laminating and laminating technology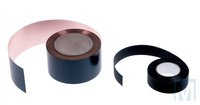 We laminate and laminate on materials from 0.05 mm to 30 mm thick, from roll to roll, sheet to sheet and roll to sheet, single and double-sided.
All self-adhesive films up to a width of 1000 mm are processed.
Typical applications are:
Self-adhesive equipment of electrical insulation materials
Self-adhesive finishing of sealing materials
Laminating large photos
Protective lamination of inkjet prints
Foil and paper coatings
Cover with application tape
Equipping complete rolls with adhesive film
We also laminate and laminate on a contract basis.