Bonding and laminating technique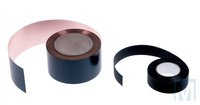 We laminate materials with a thickness from 0.05 mm to 30 mm, from roll to roll, sheet to sheet, roll to sheet, one- and both-sided.
All self-adhesive films with a width up to 1,000 mm can be manufactured.
Typical applications are:
Self-adhesive equipment of electrical insulating material
Self-adhesive equipment of gasket material
Laminating of photo murals
Laminating of protective covers for ink-jet printings
Film- and paper covers
Masking with application tape
Equipping finished rolls with adhesive films
We also laminate and bond as subcontract work.